30/09/2022
Clove Tree
Clove Flower - Clove Powder - Clove Tree The Fragrance
Clove Flower - Clove Powder - Clove Tree The Fragrance Cloves are the aromatic flower buds of a tree in the family Myrtaceae, Syzygium aromaticum. They are native to the Maluku Islands (or Moluccas) in Cloves are native to Indonesia and were originally used as a spice. In addition, this tree type is also grow more in India, Srilanka, Zanzibar, Madagascar,…
and are commonly used as a spice, flavoring or fragrance in consumer products, such as toothpaste, soaps, or cosmetics. Cloves are available throughout the year owing to different harvest seasons across various countries.
Cloves are evergreens, averaging 12-15 meters tall. Leaves are symmetrical and square, long leaves.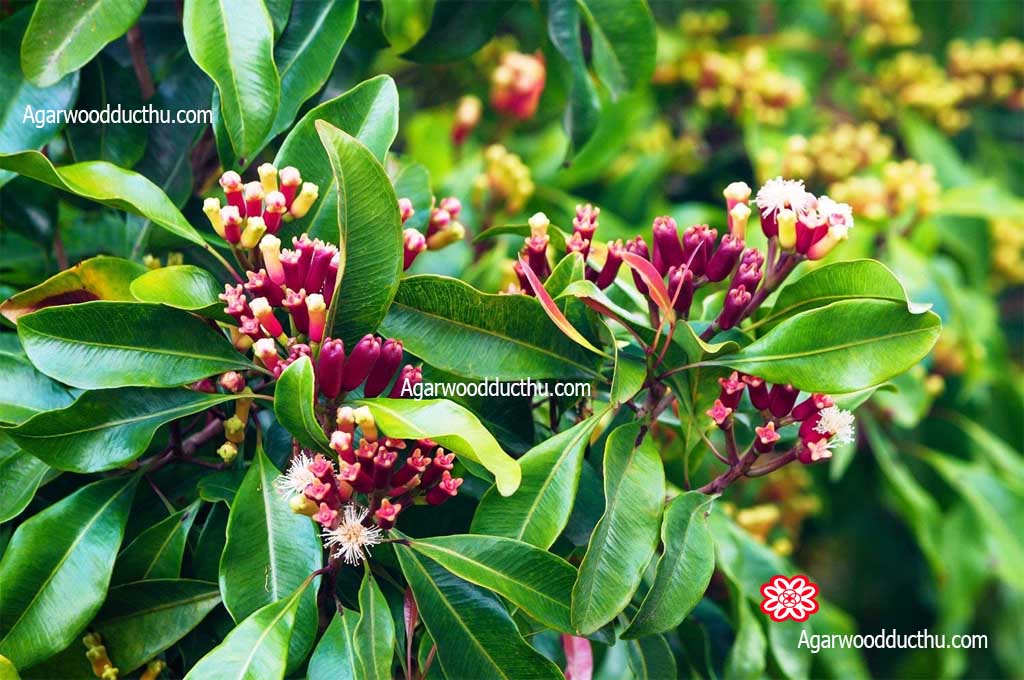 Picture of cloves taken by agarwoodducthu
Clove Flower are crimson in color and grow in clusters at the ends of branches. Initially pale in color, then it turns to color and develops into a bright red. The flower consists of 4 thick sepals, 4 pinkish white petals, when the flower blooms the sepals are early and reveal a lot of stamens. The fruit is elongated, surrounded by sepals. Rocketed only contains a kernel.
Clove buds are used medicinally.
Collection: Clove buds are collected in September - October every year. The right time to collect is when it starts to change from green to red. Can interrupt both or interrupt only.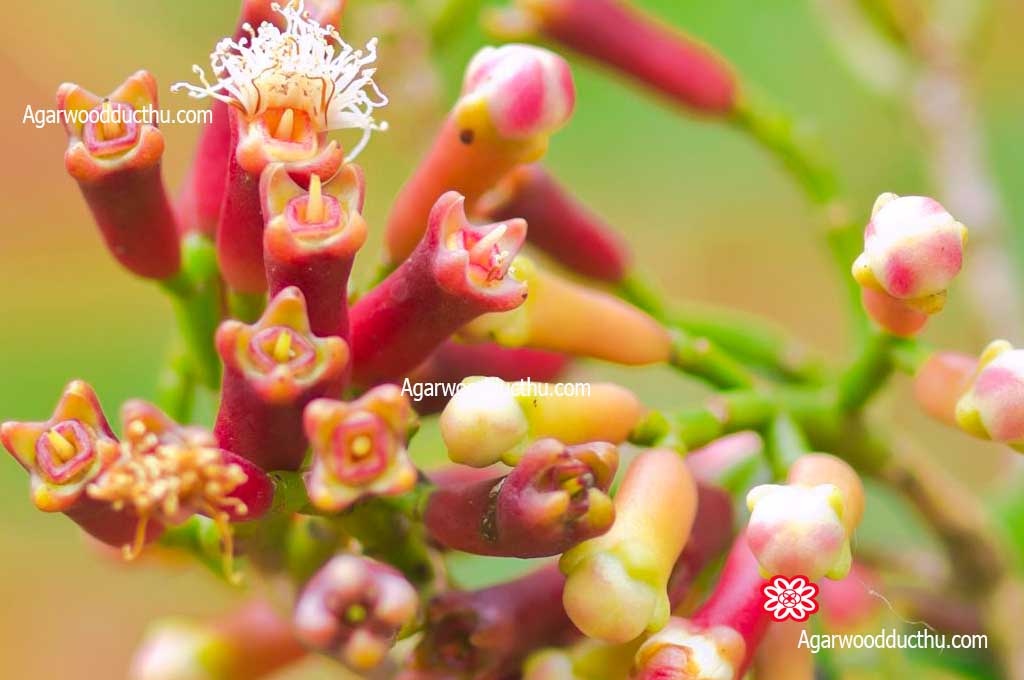 Picture of clove flowers taken by agarwoodducthu
Clove Powder Processing mode: Can be negative or lightly dried until completely dry. After processing, the clove flower is shaped like a nail, brown in color, with an average length of 10-12mm, and a diameter of about 2-3mm. Below the vote can leave a short paragraph, above contains 4 sepals. The sphere contains 4 unopened petals, arranged tightly. When separating flowers inside multiple stamens, there is a short, straight proboscis in the middle.
Clove bud is the part that concentrates many essential oils, which include: oleanolic acid, kaempferol, benxaldehyde, methyl salicylate, acetyl eugenol, methyl-n-pentyl ketone, a-ylangene eugenone, isoeugenitin, beta-caryophyllene, eugenol, rhamntin, eugenitin, chavicol...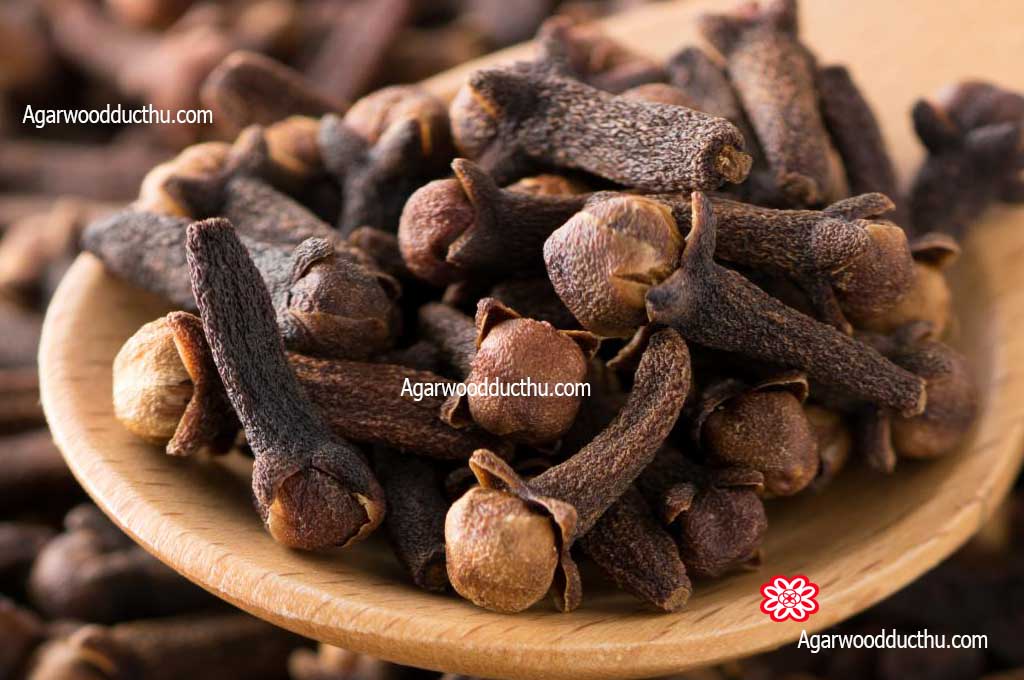 Picture of dried cloves agarwoodducthu taken
Clove Tree The Fragrance, an evergreen also known as Syzygium aromaticum
Found in both whole and ground forms, this versatile spice can be used to season pot roasts, add flavor to hot beverages, and bring spicy warmth to cookies and cakes.
You may know cloves as one of the main ingredients in gingerbread baked goods or a staple spice in Indian cuisine.
Cloves are best known as a sweet and aromatic spice, but they have also been used in traditional medicine.
Some research suggests that the compounds found in cloves might help protect against cancer.
One test-tube study found that clove extract helped stop the growth of tumors and promoted cell death in cancer cells.
Another test-tube study observed similar results, showing that concentrated amounts of clove oil caused cell death in 80% of esophageal cancer cells.
The eugenol found in cloves has also been shown to have anticancer properties.
A test-tube study found that eugenol promoted cell death in cervical cancer cells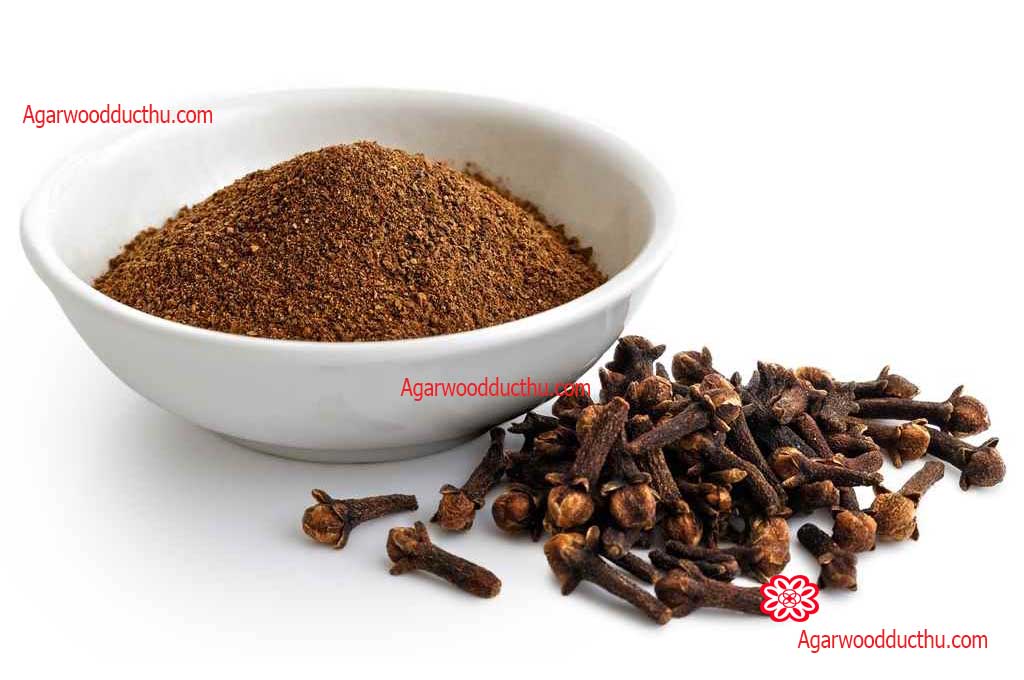 Clove pictures taken by agarwoodducthu
Clove Flower - Clove Powder - Clove Tree The Fragrance However, keep in mind that these test-tube studies used very concentrated amounts of clove extract, clove oil, and eugenol.
Eugenol is toxic in high amounts and an overdose of clove oil can cause liver damage, especially in children. Further research is needed to determine how much lower it may affect humans.
cloves combine many herbs into incense sticks produced by Agarwoodducthu according to a traditional recipe for many years, which we always collect in large quantities to sell to domestic and international markets. Clove powder, clove essential oil meets the highest standards and prestige in Vietnam.
Introduction of carpentry products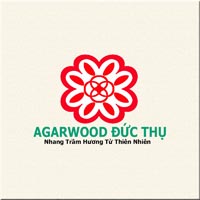 (AGARWOODDUCTHU.COM) "With the desire to spread and shine throughout the countries the unique features and characteristics of Zen culture, We have built a reputation for service, reliability and quality by serving goods. Satisfying thousands of customers worldwide".