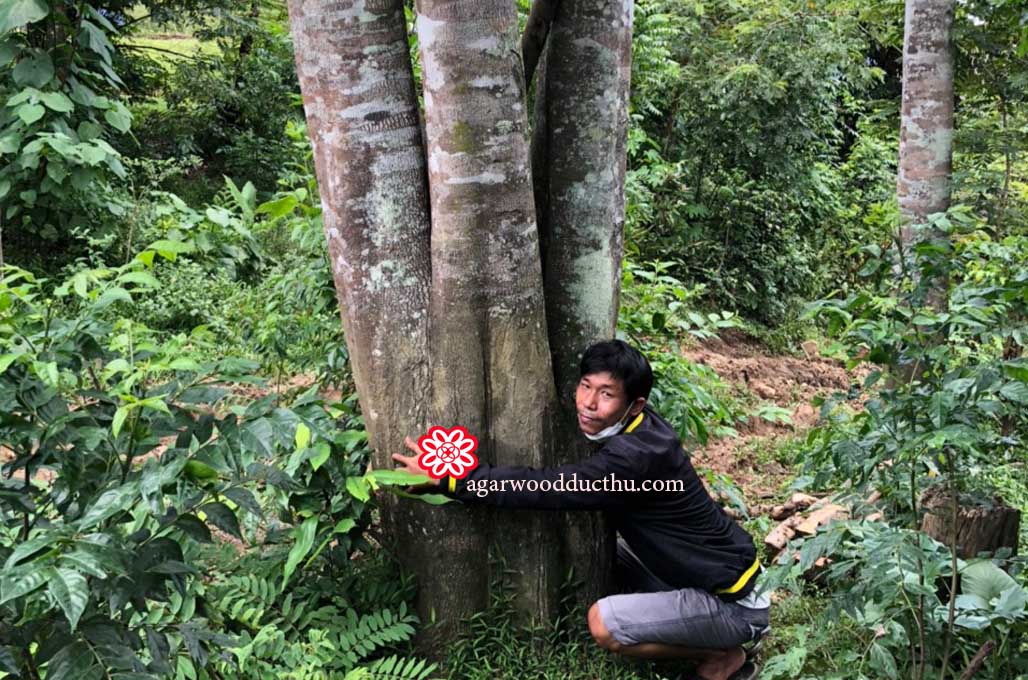 29/08/2022
Agarwood tree,
Do Bau Tree - Or Gio Bau Tree - Do Bau Agarwood Tree
Do Bau Tree - Or Gio Bau Tree - Do Bau Agarwood Tree It is the current rare type of agarwood that produces agarwood. Wind gourd tree is a large wood, about 60cm in diameter, with gray bark, many flowers, preferring to live in tropical forests. How is the process of creating Agarwood from Do Bau tree? What are the characteristics of the tree? Let's find out together in this article.
Aquilaria crassna has a tall stem, long leaves, gray stem with white spots, very easy to grow and suitable for regions with tropical monsoon climate, the stem is very soft and white. flowers and fruit in the summer from March to June.
If growing in normal conditions, the tree has no value, the wood is soft, so it cannot do many berths and packing, this is also the reason why many people are disturbed and disillusioned. rate row.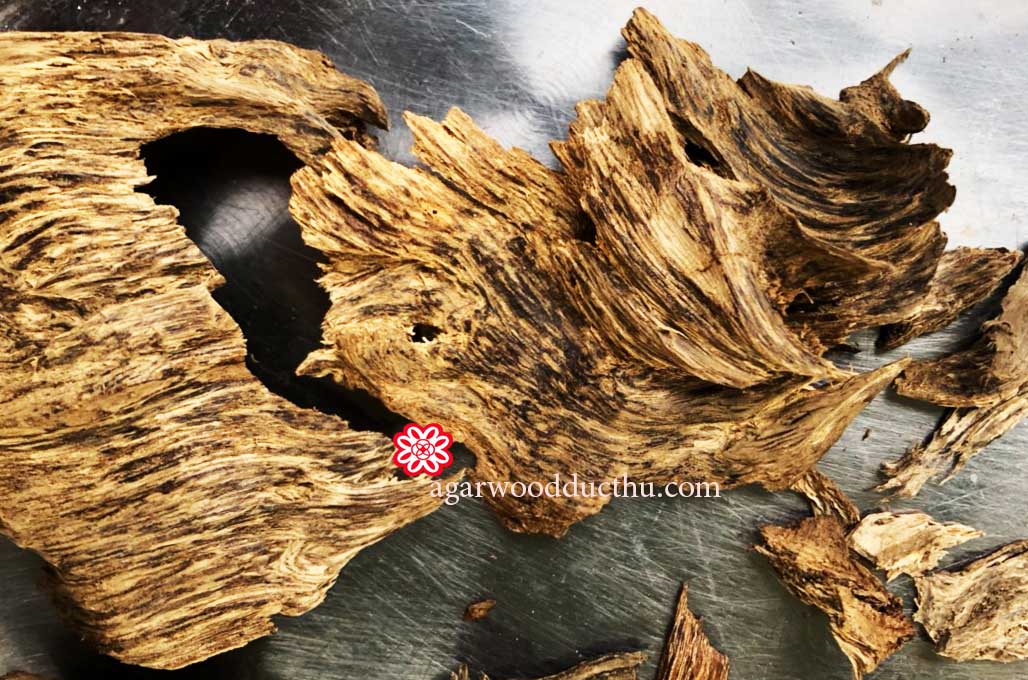 A piece of natural frankincense is taken from the tree by Đức Thụ Agarwood
Do Bau Tree Do tree is also known as agarwood tree because it has the ability to create special agarwood, in the process of wind waves or agents that injure the tree itself, the tree is infected with mold. secretes an aromatic resin to fight the attack. Over decades, hundreds of years, this resin forms agarwood.
Scientific classification:
| | |
| --- | --- |
| Limit | Plantae |
| The set | Malvales |
| Surname | Thymelaeaceae |
| Subfamily | Thymelaeoideae |
| Cardboard | Aquilarieae |
| Spend | Aquilaria |
According to statistics, there are more than 25 types of trees, but only about 19 types are made of agarwood:
1 - Aquilaria grandiflora Bth China
2 - A.sinensis Merr (A.chinesis) China
3 - A.yunnanensis.S.C.Huynh China
4 - A.beccariana Van Tiegh Malaysia, Indonesia
5 - A.microcarpa Baill Malaysia, Indonesia
6 - A.hirta Ridl Malaysia, Indonesia, Singapore
7 - A.rostrata Ridl Malaysia
8 - A.subintegra Ding Hou Thailand
9 - A.malaccensis Lam India, Indonesia, Bhutan, Laos, Malaysia, Thailand
10 - A.moszkowskii Gill Indonesia
11 - A.cumingiana (Decne) Ridl Philippines
12 - A.filaria (Oken) Merr Philippines
13 - A.apiculata Merr Philippines
14 - A.acuminate Philippines
15 - A.crassna Pierrei ex Lecomte Vietnam, Cambodia, Laos
16 - A.baillonii Pierrei ex Lecomte Vietnam, Cambodia, Laos
17 - A.banaense P.H.Ho Vietnam
18 - A.rugosa L.C.Kiet & P.J.A.Kessler Vietnam
19 - A.khasiana H.Hallier India, Bhutan
Characteristics of agarwood?
As a bigwood tree type, the most common average height is 15-25m.

Stems are about 60cm in diameter with gray, thin bark.

Inside that layer is light yellow wood flesh.

We are single leaf tree type. Their leaves are oval, egg-shaped or spear-shaped.

The upper surface of the leaves is glossy and dark green.

The underside is lighter in color and soft hairy.

Not only in the leaf parts, young branches and leaves also have soft hairy parts.

In terms of flowers, flowers grow in clusters in the leaf nooks. We have warning images and feathers on the top.

In Vietnam, around March-March, there will be flowers and by June-July, the results will be ripe.

Each result has 1-2 seeds. Ripe seeds are brown. External hardware, internal software and essential oils, do not store for long.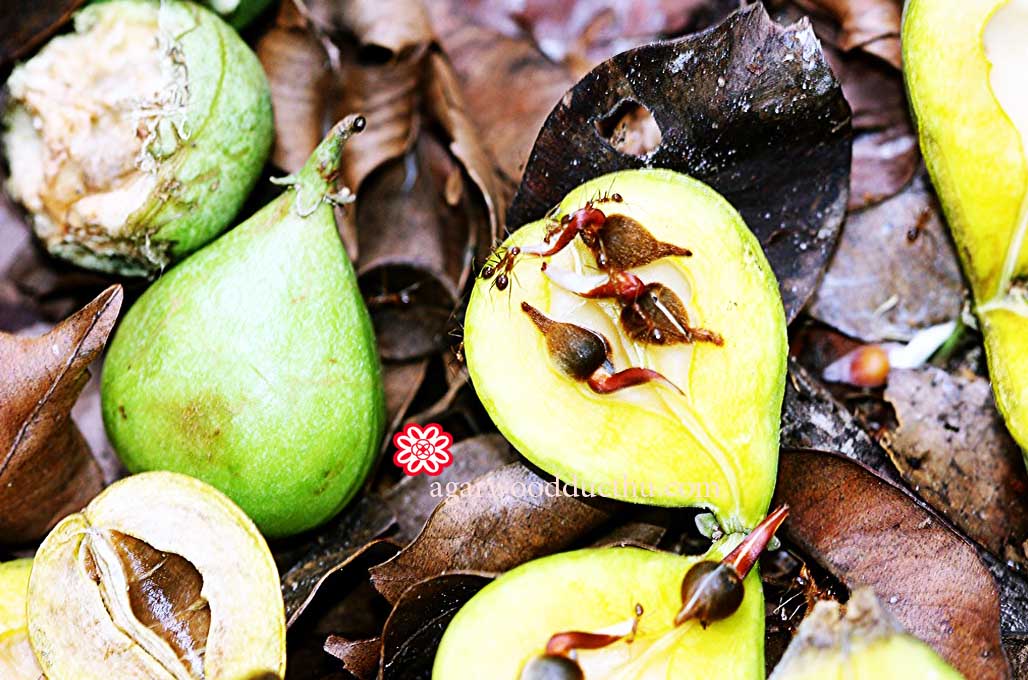 The resulting image was taken by agarwood Đức Thụ
Conditions for good plant growth
Or frankincense About the weather: The annual average temperature is from 20-25 degrees Celsius, the rainfall is from > 1500mm/year to avoid flooding for more than 1 hour, the humidity is about > 80%.
Soil: Moisture, porous layer, soil layer over 40cm thick, lots of humus. The plant does not grow well on calcareous, sandy or wetland soils.
Some diseases affecting plants need attention: Common diseases of the neck, stem, leaf burn, powdery mildew, leaf rollers, stem borers, etc. The way to overcome is to use special drugs. Reduces the risk of decay.
The location of the agarwood tree
Majority vote in Southeast Asia and the island of New Guinea.
Vietnam gives very high quality of stored strawberry essence and Tram quality.
In Vietnam, agarwood is grown from North to South
In Vietnam, there are 3 popular types of Do Bau trees: Do Bau (Do Bau), Do Bau (Do Ba Na) and Do Bau (Do Baillon) distributed in areas such as:
North: Hoang Lien Son, Vinh Phu, Hoa Binh, Ha Tay, Quang Ninh, Bac Ha, Cao Bang, Lang Son, Ha Bac.
Central region: Thanh Hoa, Nghe An, Ha Tinh, Quang Binh, Quang Tri, Thua Thien, Quang Nam, Da Nang, Quang Ngai, Binh Dinh, Phu Yen, Khanh Hoa.
Central Highlands: Gia Lai, Kontum, Dak Lak.
South: Binh Thuan, Lam Dong, Binh Phuoc, Dong Nai, Tay Ninh, An Giang, Kien Giang, Phu Quoc Island.
Especially found on the entire Truong Son range, but because people exploit the landfill, so far, only oil trees have been found in remote and forest areas.
Over a very long time, with favorable weather conditions and influenced by many natural influences, Agarwood was born. The longer the agarwood, the higher the value.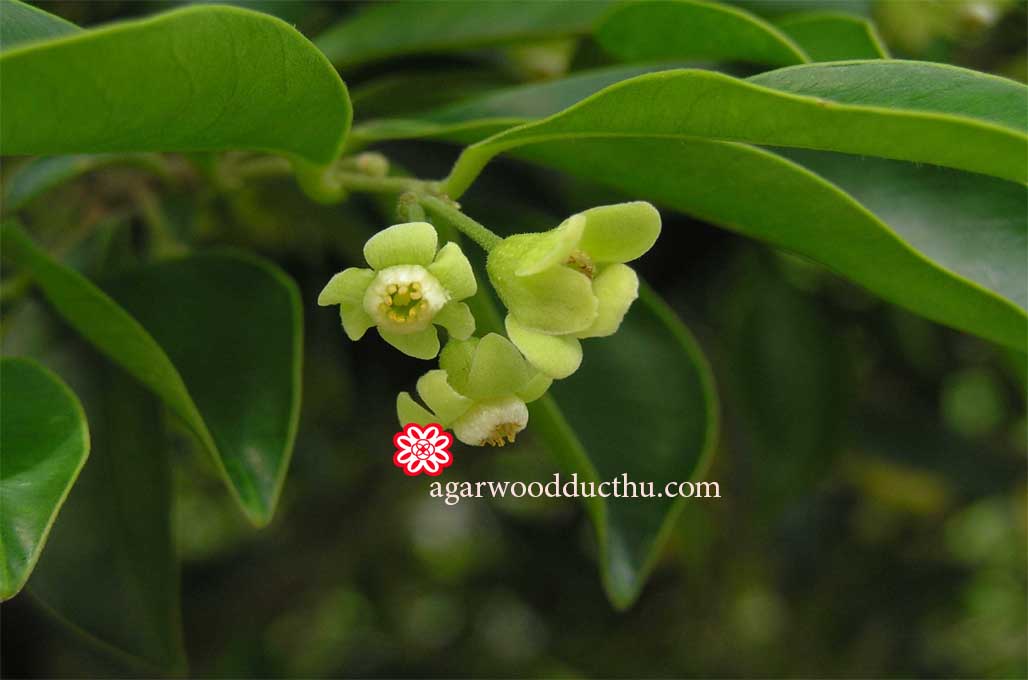 The image of the leaves of the Do Bau tree was taken by Agarwood Đức Thụ
Economic benefits of agarwood tree:
1. Make frankincense essential oil
Do Bau Tree, or Wind gourd tree, after creating Agarwood, the entire stem, leaves and leaves of the Do Bau tree are used to store Agarwood essential oil. In addition, with wind trees that create Agarwood, its value can be up to billions of dong.
2. Compare frankincense:
One of the types of profits exploited from Do Bau is Do Bau, Sanh is a thin layer on the trunk of the Do tree containing agarwood, often used for smoking or making synthetic agarwood products.
3. Execort dream about the gourd tree:
The benefits that the voting tree brings cannot be denied, because people believe that this tree will create agarwood or agarwood, sold to the market at a very high price, in the 2000s until now, homes have been contemplating. home.
Images of plants decaying due to nature
Do Bau Tree - Or Gio Bau Tree - Do Bau Agarwood Tree With the purchase price of seedlings ranging from 3000 VND to about 20,000 VND per tree, mixed plant growers hope that 10-20 years later, each gourd root only needs to be sold for about 5-10 million VND. can also bring in billions of dollars.
Agarwood is often formed on the wind gourd tree with the age of 10-15 years or more. Theoretically, about 7-8 years old dó trees will be drilled, biological products wait a few years after voting to create agarwood.
However, in fact, many families, when activating biological drugs to create agarwood in trees, failed, so it is considered that the tree is no longer valuable. Growers have to sell cheaply, because the wood of the tree is spongy, without the core, so it has no value anymore, only using the valuable dock.
In addition, during the development process, wind and storm caused significant damage to trees and pests.
Do Bau wood is a rare raw material in the production of high-grade agarwood, so it is carefully selected by Agarwoodducthu.com before being imported into the raw material warehouse for production. The scent from the Agarwood tree is not easy to combine with other drugs, which will lose the value of the Agarwood tree. After much research, we have accumulated and created as desired. WITH ALL PRODUCTS OF NATURAL AGARWOOD.
Introduction to carpentry ingredients section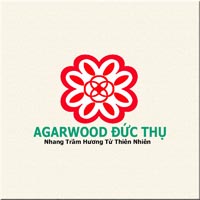 (

AGARWOODDUCTHU.COM

) "WITH THE DESIRE TO SPREAD THE COMPLETE COURSE, UNIQUE CULTURE OF MEDITATION, AGARWOOD, WE ALSO HAVE NATURAL HEALTH PRODUCTS, PRICES TO CHOOSE CUSTOMERS WORLDWIDE".